We say YES! Vitamin C has many beneficial properties and wards off most seasonal flu viruses. And while citrus fruits have always been the go-to fruit as a flu remedy, fresh ginger tails the citrus family. With its high content of vitamin C, ginger actually outdoes the competition in the remit of immune boosting properties.
Ginger also provides powerful anti-inflammatory benefit in the lungs.
Antiviral properties of vitamin C
According to a medical study completed this year, which you may wish to read here, Vitamin C has biological properties that have a potent antiviral effect. Specifically it showed the ability to reduce lung inflammation in seasonal flu conditions and also respiratory syncytial virus (RSV).
There are also videos from China saying that people who have been taking at least 1.5g of Vitamin C a day had reduced incidence of contracting coronavirus. And those who did contract the virus, recovered more easily when taking high doses of vitamin C.
And if you want to keep your environment free of viruses, you can use camphor essential oil which I talk about in this blog post.
So what are the best the sources of Vitamin C?
Well you can find so many on the internet – but I opt for the warm spiciness of fresh ginger root. Since eons past, ginger has made itself known for its powerful anti-inflammatory benefits. Yet it also provides one of the highest contents of Vitamin C. On top of that, it is widely available in most stores, supermarkets and markets – perfect for those with busy lives!
Aside from strengthening your immune system due to its high levels of antioxidants, ginger also contains a multitude of other minerals. Among these are magnesium, known for its calming properties. Fresh ginger also has a beautifully calming effect on stress and tension.
So here's how to best enjoy fresh ginger tea:
(1) Chop a good sized piece of ginger root in small chunks or slices and place in a small pan
(2) Add fresh water and simmer for 20 minutes allowing all its properties to seep into the water
(3) Allow to cool down and savour all its goodness with a mint leaf and some honey
(4) If you have chest pains from bronchial issues, then eat some of those small chunks directly and feel its effect almost within the hour
By drinking a cup of freshly brewed ginger tea every day, you provide an immune booster like no other.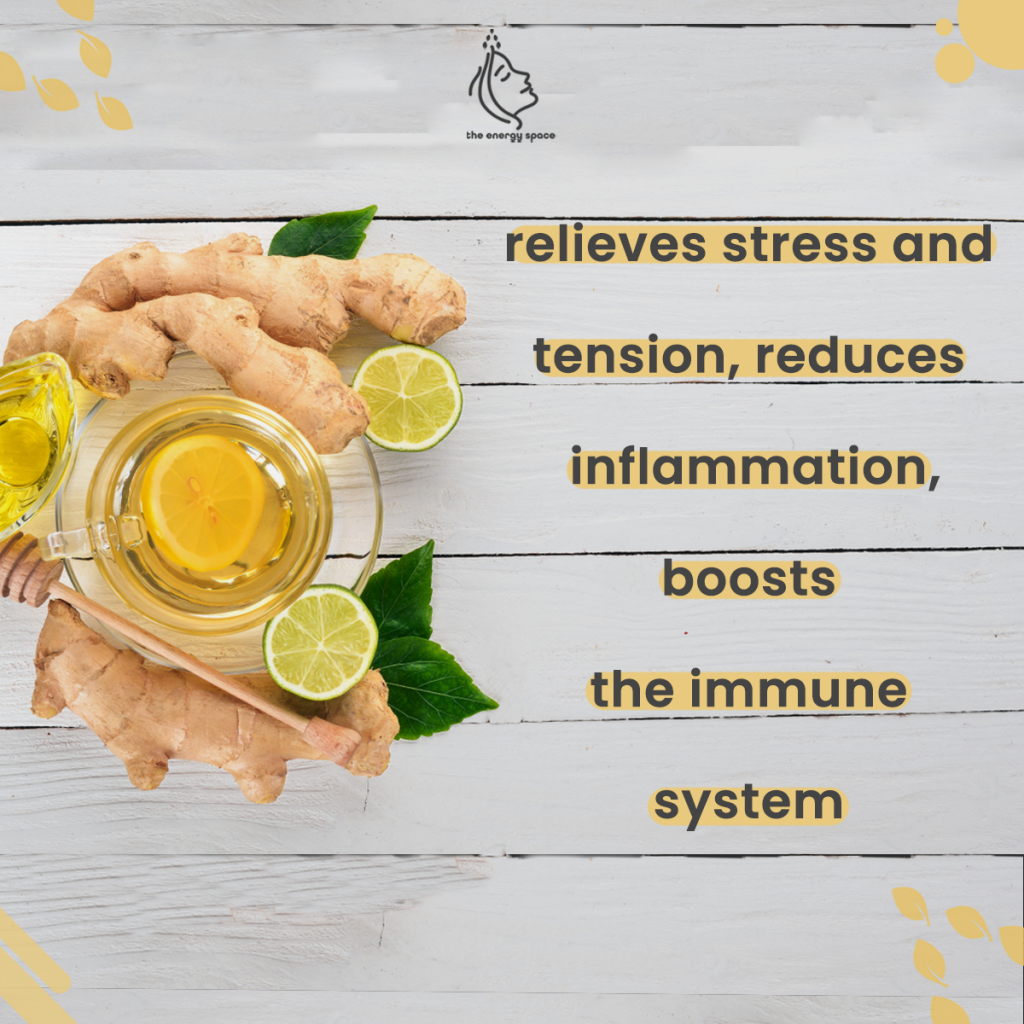 Its myriad of benefits include so much more than fighting off viruses
We always have a cup of ginger tea ready at the Energy Space and offer it to any of our clients who crave that lovely spicy warming feeling pouring into the bronchial pathways and stomach.
And in case that was not enough, fresh ginger also
Improves digestion by maximising food absorption – which means you lose weight naturally!
Reduces muscle and joint problems – you can put the tea directly on joints to relieve the inflammation
Prevents nausea from morning sickness (for all you pregnant ladies) and motion sickness (yes that dreadful feeling you get in the car…)
So let's focus on filling up our fridge drawers with plenty of fruit and vegetables – and a few pieces of fresh ginger too!