Turmeric is not only a powerful antioxidant, antifungal, antiviral and antibacterial agent.
It also protects against radiation and inflammation inside the body.
This means that it pretty much acts against most of our modern day diseases. These include cancer, neurodegenerative disorders, depression, diabetes, obesity, and atherosclerosis.
Turmeric is a golden powdered spice obtained from the rhizome of the plant Curcuma longa.
In Ayurveda and folk medicine turmeric has also been used for the treatment of gynecological disorders, gastric problems, hepatic disorders, infectious diseases, and blood disorders.
More than just curcumin
Copious amounts of clinical studies have been undertaken on this powerful spice to show the anti-inflammatory benefits of curcumin. This is one of the main constituents, but not the only one.
In fact curcumin only represents approximately 2.5% of turmeric.
There is so much more to this spice than just curcumin, which is why it acts against such a plethora of illnesses.
The chemical constituents of turmeric are many. This spice has many other beneficial constituents aside from curcumin. Among these are polyphenols, sterols, and alkaloids.
These are effectively a host of medicinal agents that act in synergy against many physical ailments – and most importantly, in a natural way.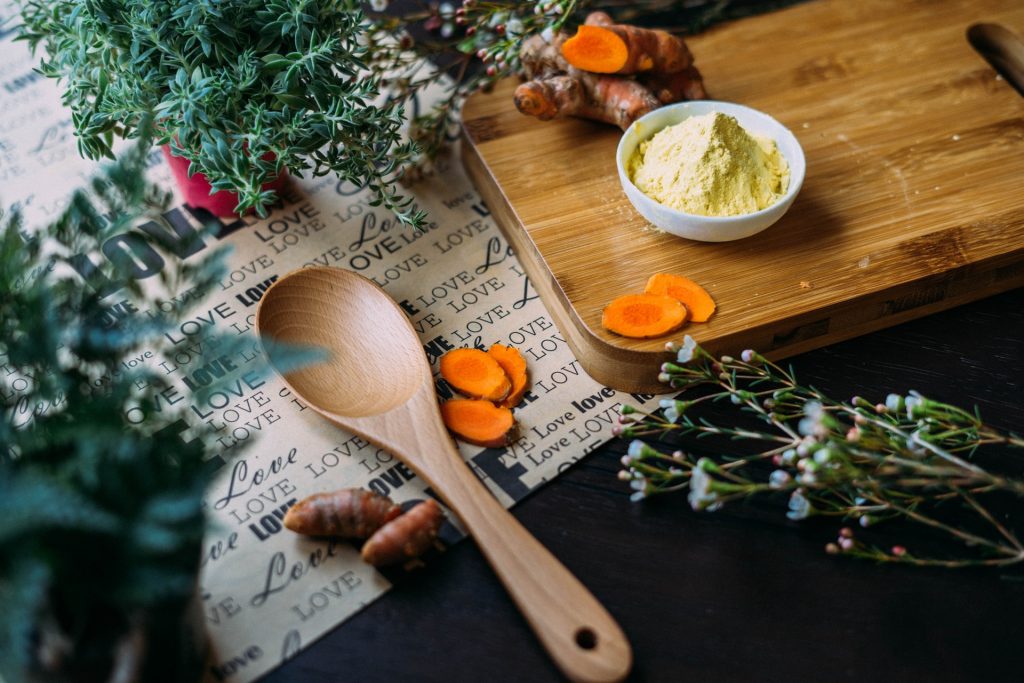 Turmeric has a multitargeting ability that clinical studies show can act against various important human pathogens.
These include the influenza and hepatitis C virus, HIV and bacterial strains of Staphylococcus, Streptococcus, and Pseudomonas.
Turmeric has shown to have potent antiviral, antibacterial and antifungal properties.
Cell-based studies have also demonstrated the potential of turmeric as an insecticidal and larvicidal agent. Which means that it can get rid of all those unwanted parasites in your gut.
But the feature we love most about it is that it has the potential to be an antimutagenic and act as a radioprotector.
What does this mean?
That turmeric has the potential to protect against cell mutations and against the variety of radiation around us. You can listen here to understand more about how to overcome any form of radiation.
Whether this is outside with 5G, mobile phones or microwaves, then turmeric is your go-to spice to help keep your body strong against radiation.
It can actually be one of the best preventative measures to keep us in good health.
Something that can also keep you energised during your long hours in front of a computer. Or even in an office which by its very nature exhudes radiation.
How about a nice turmeric latte every day?
I have experimented taking this every morning and just over the course of a few days it really did help to subside the sore throat and cough that persisted from being outdoors.
With its antioxidant properties, turmeric helps to flush out nanoparticles that are present in pollution and pesticides.
So here goes a simple way to enjoy it every morning in under 5 minutes:
Put one spoonful of turmeric in a cup
Add some alternative milk (coconut and rice combination works beautifully and I prefer to heat it up in a pan). Or try it with normal milk.
Add a spoonful of agave nectar
Sprinkle with cinnamon powder
Try the 7-day challenge – 1 cup of turmeric latte a day instead of your first or second coffee.
Or if you want to stick to your routine, add it to your normal caffe' latte or cappuccino – I am sure it would still work wonders and taste delicious.
Turmeric for beautiful skin
Turmeric is used widely for skin applications in many countries because of its antibacterial properties. For this reason it works beautifully on acne and other skin conditions impacted by bacterial growth.
Like many herbs and homeopathic remedies for skin, ingesting turmeric and applying it directly to the skin works wonders.
Try mixing some turmeric with milk and honey into a natural paste. Apply it once a week as a face mask to lighten and even-out your skin tone.
Scrub off with a soft cloth so that dead skin cells can make space for new ones to regenerate.
The skin is our largest organ and yet standard therapy has many limitations. Medications have limited efficacy probably because current research does not fully understand what causes skin problems. For example, standard prescription medications for acne have potential side effects after some time.
Given this spice is freely available, I would suggest to stock up and to delve deep into its antioxidant properties. The inner and outer cleansing properties will promote a natural glow to your skin.
With all the turmeric brands out there – which one to choose?
One brand we love is AMALA PURE HEALTH. This is 100% Pure Raw & Natural Root Turmeric with BioPerine.
This formula is organic, vegan and contains pure turmeric root with BioPerine. The capsules contain over 20 active compounds that can help boost your immunity and eliminate toxins. This formula uses a concentrated black pepper extract which can help enhance the absorption of nutrients by up to 2000 times! This is the original stuff – grown in India and made in the UK.
Ethically sourced and processed in a way that maintains the entourage effect of the plant. This has to be one of the best supplements out there. It also comes with sustainable packaging. No fillers or nasties. Just the good stuff.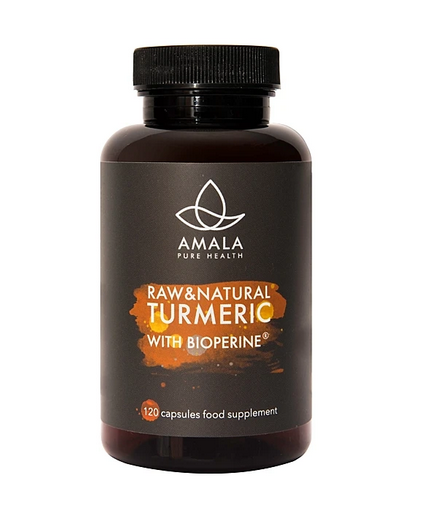 Benefits include
Supports immunity function
Supports the elimination of toxins
Can aid in soothing joints and muscles
Can aid recovery post exercise and high performance activities
Supports good gut health
Supports a healthy skin
Get your two month supply here. We put our families and friends on this supplement with subscribe and save. A worthwhile investment.
———————–
Photos by Chinh Le Duc and Sarah Gualtieri