VOXX High Performance Technology (HPT) supports the brain in functioning at a higher level.
The VOXX neuro patches impact positively the rest of your body as the brain communicates with the nervous system. And this is because a proprietary pattern which has neuroreceptor activation points (neuro-points) acts on the brain stem.
All the information relayed by the peripheral nervous system (PNS) to the central nervous system, goes through the brain stem. The PNS can be found on the ball of your feet for example.
And what's more it has a positive impact on pain which is especially useful for people living with diabetic neuropathy. Independent studies have shown a reduction from an average of 4 on the Universal Pain Score down to 2.
The brain stem acts on a myriad of our inner systems.
These include cardiovascular system control, respiratory control, pain sensitivity control (such as in naturopathic pain), alertness, awareness and consciousness. This explains why the Voxx HPT pattern works so well.
The brain stem has integrative functions which is why the applications of this technology range from athletics performance to general wellbeing.
By supporting optimum brain function, VOXX HPT products support improvement in brain health.
This in turn improves the function of the entire body through the nervous system. Among the most affordable and easiest to use products are the VoxxLife patches and socks.
Where do you buy VoxxLife socks?
The socks can be purchased through this site for wellness, to improve balance and to reduce naturopathic pain in diabetics.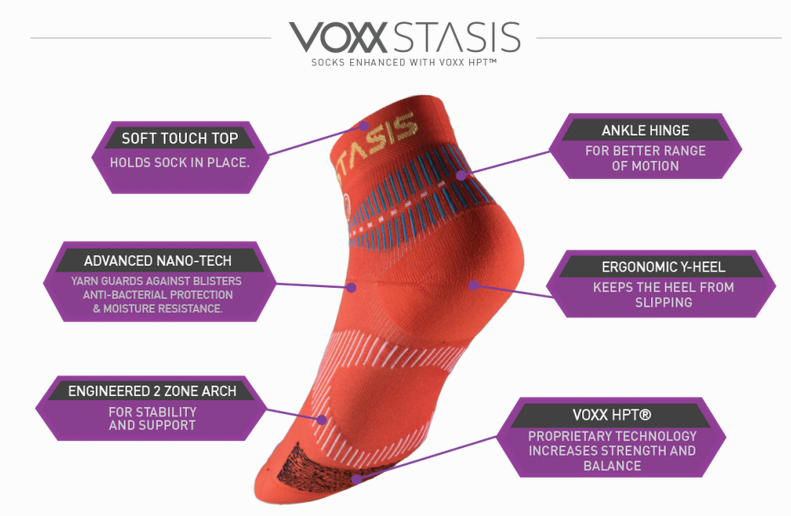 The socks are particularly good for athletic performance – especially for runners and people playing golf who need to good lateral mobility.
If you enjoyed reading this post and the advancement in wearable technology, share it with family and friends. We would love to hear testimonials from you all.