Are you worried about the effects of 5G on your health? If so you are probably not the only one. This is mostly because of the largely unknown impact the fifth generation (5G) wireless mobile technology could have on our body.
However, as everything on this Earth is based on frequency, it can always be harmonised or counteracted by another element in Nature. We point to a wonderful stone that has shown to have wonderful protective benefits against 5G and electromagnetic frequency (EMF). It is called Shungite.
What is Shungite
Shungite is a powerful natural stone that due to its trace amounts of fullerenes, is able to protect absorb and completely neutralise 5G and EMF radiation. It is a black, lustrous, non-crystalline mineraloid consisting of more than 98 weight percent of carbon. The stone comes from the Karelia region of Russia near a village called Shunga – hence its name.
The most important and unique aspect of Shungite is the fullerenes element.
In simple terms, these are hollow carbon cages that can trap other molecules and absorb dangerous substances in the body to remove them.
Fullerenes are used as antioxidants and antiviral agents in the health sector. They are also used as an anti-ageing molecule in the cosmetic sector.
You can also wear it as a bracelet, a necklace or beautifully simple pendant.
In the context of 5G, Shungite's fullerenes element transforms EMF into wave forms that are more biologically compatible with our bodies.
Why is this important?
Because this means Shungite can help maintain the frequency of our body high enough to lessen any impact 5G has on our physical, emotional and mental health. So let's have a quick look at what we know about 5G.
Is 5G safe?
To understand better the effect 5G has on our physical health we should put it in context of frequency. This is something we love to talk about as everything is frequency (Nikola Tesla).
A quick research snapshot reveals that the 5G spectrum is very wide. However, the mid-band frequency is the most widely deployed in most countries. This means that the 5G network functions at a frequency ranging between 2.4 GHz to 4.2 GHz in most countries.
In the UK, 5G networks will initially be rolled-out at a frequency that ranges between 3.4 and 3.6 GHz. To put this into context, 4G operates between 800 MHz and 2.6 GHz. A microwave oven operates at a frequency of 2.45 GHz.
Why is this important to understand?
So that we realise that we are constantly in the midst of EMF radiation waves. Unless we live in some geographical region that has no wireless technology. Otherwise placing a big shungite sphere in the home or office might just keep all your people healthy as they stay in wonderfully harmonised energy.
Like anything in nature, there is always a way to create balance. Shungite can be considered that wonderfully harmonising substance.
Does Shungite protect from EMF or 5G?
Yes it does.
Protecting yourself simply and easily with Shungite
The best way to use Shungite is to attach it to or place it next to your mobile phone.
You can purchase a good quality, affordable option to attach to your mobile devices either on this link or this link.
ESPECIALLY FOR LAPTOPS.
If you are working from home every day on a laptop, if you are pregnant or have a low immune system, using a shungite EMF protection stand for your laptop is an ideal option. You can also place it as an elegant semisphere next to your wireless router to counteract wireless radiation.
An EMF measurement devices captures Shungite's ability to reduce the presence of electromagnetic waves in its proximity.
Naturopathic doctors also use Shungite in kinesiology to test the presence of radiation in their patients. Among the multitude of uses in adornments, jewellery or mobile phone stickers, the one we like best is the health promoting effects Shungite has on drinking water.
You can place just a few shungite spheres next to your water jug to avoid the water absorbing radiation
Can Shungite purify water?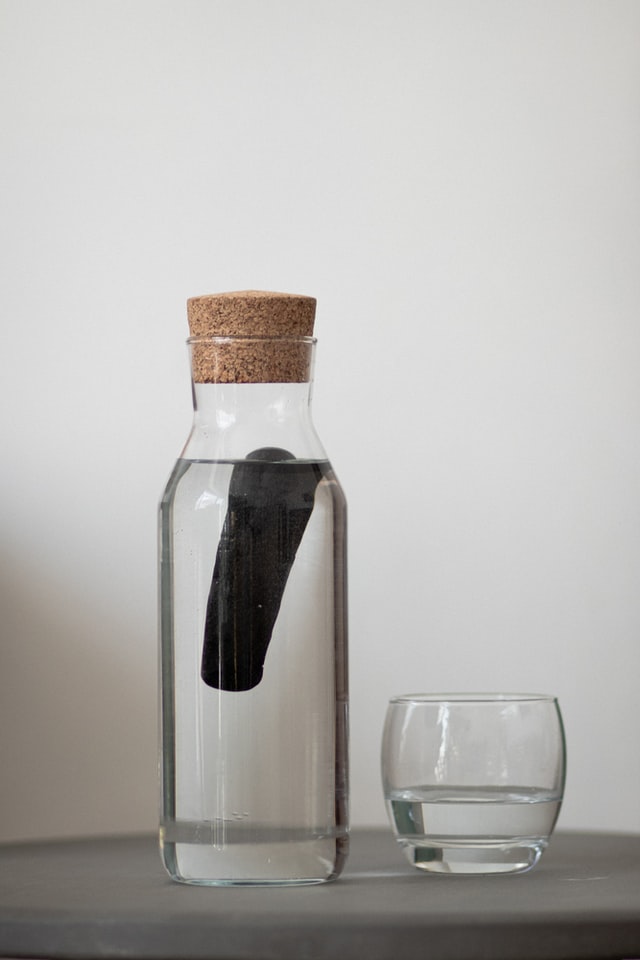 Shungite is able to remove many contaminants found in tap water. This is mostly due to its fullerenes content. So let's have a look at some of its benefits.
Placing Shungite stones in water can remove bacteria, microbes, nitrates, heavy metals, pesticides, trace amounts of pharmaceuticals, chlorine and fluoride.
Shungite purifies water in a way that it can provide a therapeutic effect on the body. It helps to redress a number of health issues including skin problems, chronic respiratory issues, headaches, joint and muscle aches as well as digestive issues.
According to one medical paper, Shungite has an antioxidant and anti-inflammatory action against UVB-induced skin damage. And if you want to know more about keeping your skin glowing, read our 7-steps to healthy skin blog.
One caveat however. If you are going to use Shungite in water, be cautious on the type you choose. Some of the lower quality Shungite traps toxins, but keeps the residue hanging in the water. Clearly this is not the kind of Shungite any of us would want to use in our drinking water.
Be savvy and make sure you source your Shungite stones from a reputable provider. Check with a specialist that the stones are of a high standard. Accordingly, you can use the stone to purify drinking water.
If you experience some health benefits after using Shungite in your surroundings or in water, we would love to hear from you!